2023 Go Topless Day in the Smokies
Recap
Join Smoky Mountain Jeep Club as we blaze a trail thru the Smokies and celebrate Go Topless Day. We will meet at the Great Smoky Mountain Heritage Center in Townsend at 9:30am and be ready to pull out at 11:00am. From there we will travel thru some of the best scenery the Smokies has to offer as we approach the ever popular Cades Cove where there is a vast abundance of wildlife and beautiful mountains views . We then will convoy taking the primitive Parson's Branch Rd, a true Jeep adventure with a mix of small water crossings and dirt, as we move on to tame the Dragon with it's many curves. We will end our celebration of Go Topless Day with a leisurely drive thru the Foothills Parkway. Be sure to have a FULL tank of gas, bring snacks, drinks and a camera as you will want to save the memories of this ride as we GO TOPLESS with SMJC.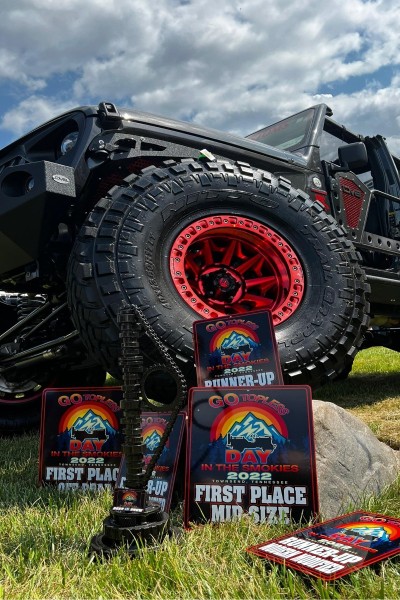 Pets, food and drinks, admission, competition – get your questions answered here.
Join us for National Jeep Go Topless Day 2022!!
The Annual Jeep Go Topless Day in the Smokies event will take place at 346 Wears Valley Road in Townsend, TN 37882 from 10 am-5 pm on Saturday, May 21, 2022. The 2022 Go Topless Day In The Smokies event will have it all
Music
Jeep Show & Shine Contest
Vendors
Food Trucks
Raffles
And More!!!!
Shop the vendors from 10 am-5 pm, enjoy the great food, participate in games, raffles and register for the all model Jeep Show & Shine $20 per vehicle - Judging begins at 3:00 pm, awards at 4:30 pm. Jeep Show & Shine: This contest is open to ALL Jeep models. The categories being judged are Modern Modified, Off-Road, Vintage/Modified, Midsize and Fullsize, and lastly Best in Show!! 2nd place in each category (except Best in Show) will win a plaque. 1st place in each category (except Best in Show) will win (2) 1 day passes to the Great Smoky Mountain Jeep Invasion and a plaque. Best in Show will win the Show & Shine Experience, which includes, (3) 1 day passes to the Great Smoky Mountain Jeep Invasion, FREE entry into the Show & Shine Event which includes daily parking inside the Show & Shine Event area, entry into all judged daily competitions, an entry in 5x $250 cash drawings (during the Invasion) held on Saturday, a CUSTOM TROPHY, and ultimate Bragging Rights! Registration for the Jeep Show begins at 10 am and ends at 2:45 pm. Judging (by a 3rd party) begins @ 3:00 pm and the winners will be announced at 4:30 pm. This year's event is designed for you to enjoy the whole Go Topless Day experience as you explore the area on your own or with friends. Flyers will be available for nearby trails so you can enjoy the day at your own pace.
Stay tuned for the latest updates!