2023 VIP Parking Jeep Only (All Models)
VIP Parking is back and better than ever and limited to JEEPS ONLY!!  For the 2023 Great Smoky Mountain Jeep Invasion we will offer a limited number of Vip Parking. Enjoy the freedom of entering and exiting the VIP Parking area as much as you would like and know you will still have premier parking when you return!! Cancellations prior to July 24, 2023, will be accessed a 50% cancellation charge plus square fee.  No refunds after July 25, 2023. All transactions are non-transferable. ID will be required at check-in.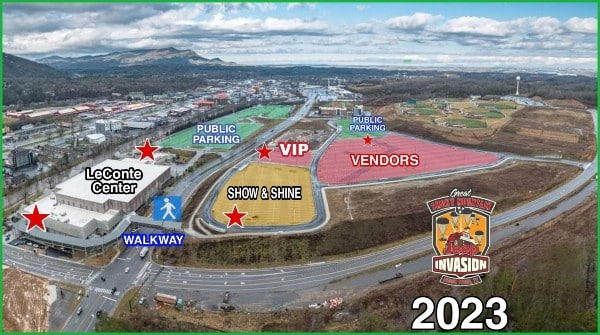 VIP Parking: $300
The VIP Parking package is reserved for Jeeps only!  Included in this package:
Guaranteed premier reserved parking located in the VIP parking area (single space)

2X VIP admission lanyards that allows admission into the show for all 3 days. (extra admission bands can be purchased at check-in)

Commemorative dash plaque
VIP Parking is available on show days from 8:00 AM – 5:00 PM, no canopies, tents, chairs,  camping tents or overnight stays allowed. No advertising, promoting, or selling allowed. Space is limited and on a first come first serve basis, so purchase now!!